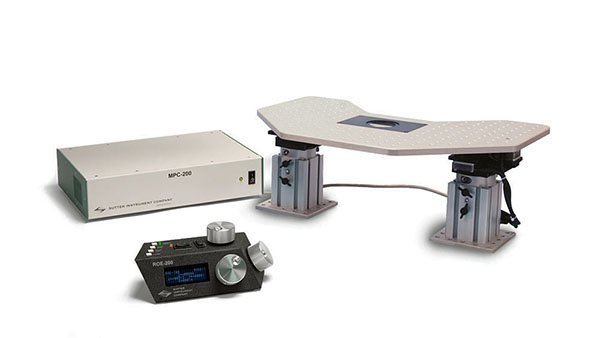 MPC-78 / MP-78
Large Moving Stage Platform
The MPC-78 / MP-78 Large Moving Stage is available for patch slice or in vivo experiments where the microscope body cannot be moved to view different fields of view. This is most common in two-photon experiments where the excitation beam path must enter a fixed microscope. In order to visit wide-spaced fields of view, and potentially position pipettes at wide-spaced locations, the preparation and any associated manipulators must move together on a large stage.
The MPC-78/MP-78 was introduced at the 2007 Imaging Structure and Function in the Nervous System course at Cold Spring Harbor labs. The stage was very well received. The MPC-78/MP-78 is also appropriate for use with inverted microscopes or other scopes that are larger and not easily translated.
The MPC-78 version uses our MPC-200 multi-manipulator controller. Connecting the stage to one port leaves the second port open for a Sutter MP-285, MP-265, or MP-225 manipulator. A simple switch on the ROE200 allows you to easily control the stage or manipulator. A second MPC-200 controller can be daisy-chained to allow operation of a more complex system from one ROE200.
The MP-78 version is operated by the MP-285 controller, providing onboard programming capability along with control via a serial interface.
The cast aluminum top plate has an attractive shape with an extensive 1/4-20 threaded hole pattern on 1-inch centers. This hole pattern is appropriate for mounting Sutter MP-285 or MP-225 manipulator mechanicals using the mounting adapter plates that come with these devices. Optional rotating bases (285RBI) are also compatible and add flexibility. Finally, the MP-265/M mechanical can be mounted on its narrow linear slide.
The large-stage platforms provide solid, stable support and ample space to attach manipulators and other instruments as needed. The rigid aluminum top plate sits firmly on two of our well-known MT-75 gantry-style stands. These stands provide height adjustment and sturdy attachment to the user's vibration table. Multiple degrees of freedom accommodate a variety of microscope and instrument arrangements.
In the center of the top plate is a 4 X 6 inch milled pocket that will accommodate a variety of aluminum stage inserts, designed to secure various commercial tissue chambers or slide holders. Custom aluminum inserts can also be provided. An available magnetic stainless steel insert carries commercial chambers or can be provided with a simple large, through hole for mounting a custom chamber. The magnetic insert allows small magnetic devices (perfusion lines, ground electrodes, small manipulators) to be mounted easily near the dish.
FEATURES
Stable support and solid design
25 mm motorized travel in X & Y
40 nm or 62.5 nm resolution (depending on controller)
Convenient HOME function allows stage to be quickly repositioned
Can be operated with MPC-200 or MP-285 controllers
Easy to read vacuum fluorescent display
Accomodates a variety of stage inserts
Compatible with Nikon, Olympus, Zeiss and Leica upright and inverted microscopes
SUITABLE FOR:
Multi-site, two-photon, electrophysiology
Multi-site, inverted (or other large microscope) electrophysiology
TECHNICAL SPECIFICATIONS
MP-78
Baseplate Dimensions
8 in x 15.25 in x 2.25 in | 200 mm x 375 mm x 55 mm
Maximum Travel
1 in | 25 mm
Resolution
Low: 0.2 µm/step
High: 0.04 µm/step
Displayed in submicrons
Maximum Load
110 lbs | 50 kg

Weight
35 lbs | 16 kg

Interface
RS-232, 9600 baud (1 start bit, 8 data bits, 1 stop bit)

---
MPC-78
Baseplate Dimensions
8 in x 15.25 in x 2.25 in | 200 mm x 375 mm x 55 mm

Maximum Travel
1 in | 25 mm

Resolution
0.0625 µm/step - displayed in microns

Maximum Load
110 lbs | 50 kg

Weight
35 lbs | 16 kg

Interface
USB

US PRICES > MPC-78 / MP-78
International prices vary by country. Please contact your local distributor or Sutter Instrument for a quotation. Prices subject to change without notice.
| | | |
| --- | --- | --- |
| Catalog Number | Description | Price |
| MPC-781 | Moving platform stage plate with motorized gantry supports, MPC-200 controller and ROE, cables and manual | $ 13,370 |
| MPC-78/M61 | Same as MPC-78 except with M6 tapped holes | $ 13,370 |
| | | |
| MP-781 | Moving platform stage plate with motorized gantry supports, MP-285 controller and ROE, cables and manual | $ 12,145 |
| MP-78/M61 | Same as MP-78 except with M6 tapped holes | $ 12,145 |
| | | |
| MPC-78/Y51/FD1,2 | MPC-78 with focus drive for the Olympus BX51WI | $ 15,040 |
| MP-78/Y51/FD1,2 | MP-78 with focus drive for the Olympus BX51WI | $ 13,810 |
1 Please specify chamber type when ordering
2 Please contact Sutter for availability on other microscope makes and models
---
US PRICES > ACCESSORIES
Stage Inserts At-A-Glance
MPC-78 / MP-78 Chamber inserts
Catalog Number
Description
Price
X0405003
Warner Series 20 (round) - aluminum
$ 117
X0405033
Warner Series 20 (round) - stainless steel
$ 117
X0405053
Warner Series 20 (octagonal) - aluminum
$ 117
X0405073
Warner Series 20 (octagonal) - stainless steel
$ 117
X0405103
50mm round - aluminum
$ 117
X0405123
50mm round - stainless steel
$ 117
X0404973
Blank insert - Aluminum
$ 117
X0404983
Blank insert - stainless Steel
$ 117
SI-SLIDE3
Insert with slide holder
$ 117
SI-PETRI
For petri dish and slides
$ 329
SI-W303
Warner Series 30 platform - aluminum
$ 117
SI-W30ST3
Warner Series 30 platform - stainless steel
$ 117
SI-ALA-MS3
ALA MS series insert - aluminum
$ 117
SI-CUSTOM
Custom stage insert
$ 450
3 no charge when ordered with MP-78 or MPC-78
---