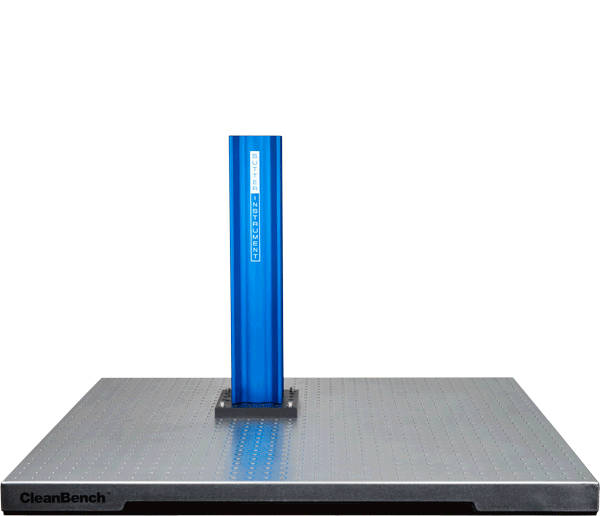 BOB™
Open-Design Upright Microscope
The Sutter BOB™ — designed to eliminate the conventional microscope frame—is a simple, open-design upright microscope platform ideal for slice electrophysiology, wide field functional imaging, two photon retinal imaging, photostimulation and new techniques just being developed! A microscope, in its simplest form, is an objective and a tube lens. Other components of most modern microscopes are designed to serve specific functions: different types of experiments, methods of illumination and means of signal detection.
Replacing the microscope frame with an optical rail builds in the ability to adjust the overall height of the microscope, unheard of in conventional microscope designs. Work on slices in January, do in vivo experiments in March. The BOB microscope is a compact, single assembly that mounts to the "blue rail" with one massive, stable connection. Focusing is motorized and incorporated between the focus arm and the optical rail.
Fluorescence epi-illumination is built into the basic BOB via an Olympus vertical illuminator. LED transmitted light illumination uses the Olympus Oblique Coherent Contrast (OCC) condenser. Sutter's TLED and TLED controller form the trans-illumination light source. The TLED controller is capable of being triggered with a digital signal eliminating the need for shutters and adding the ability to photostimulate from the trans location. In experiments where transmitted light is not desired, the LED, condenser focus mechanism and OCC condenser are easily removed as a single assembly. Additionally, the transmitted light path is shorter than in other frames, allowing the microscope body to sit significantly lower than a conventional microscope. When the microscope is shorter, there is more stability, increased ergometrics and ease of use.
The Sutter BOB, configured with an optional motorized XY stage, takes full advantage of our free Multi-Link™ software program for micromanipulator positioning. During whole-cell patch recording in slices, it is common to search a large area of the slice to find appropriate neurons. If the BOB is configured with Multi-Link, after you find your target, Multi-Link will then retrieve your recording and stimulation pipettes to the same field of view so that you can begin recording immediately. If later you need to stimulate a region outside the current field of view, Multi-Link can release the recording pipette and allow you to reposition the objective and stimulating pipette(s) to the new stimulation region.
FEATURES
Open design microscope with motorized focus
Quickly configurable based on experimental needs
Optimized to allow in vivo and in vitro experimentation on one setup
Designed for use with Olympus objective lenses
Free Multi-Link™ software coordinates movement with micropipette positioning of MPC-200
Oblique Coherent Contrast (OCC) or Differential Interference Contrast (DIC)
Epi-fluorescent illumination
Optional MPC-88 motorized XY stage with MPC-200 controller
TECHNICAL SPECIFICATIONS
Dimensions
9.1 in x 10.8 in x 20.4 in | 23.1 cm x 27.5 cm x 51.9 cm

Weight
BOB
23.9 lbs | 10.8 kg
BOB-TL
29.3 lbs | 13.3 kg
Electrical
115/230 volts
50/60 Hertz power line

US PRICES > BOB™
International prices vary by country due to associated importation costs. Please contact your local distributor or Sutter Instrument for a quotation. Prices subject to change without notice.
Catalog Number
Description
Price
BOB
BOB microscope
$ 18,900
BOB-TRTL
BOB with trinocular head and transmitted light
$ 24,990
BOB-TR
BOB with trinocular head
$ 20,900
BOB-TL
BOB with transmitted light
$ 20,900
---
US PRICES > ACCESSORIES
| | | |
| --- | --- | --- |
| Catalog Number | Description | Price |
| DIC-COND | DIC condensor option | $ Phone Sutter for details |
| MPC-881 | Moving platform stage plate with motorized gantry supports, MPC-200 controller and ROE, cables and manual | $ 13,480 |
| MPC-88/M61 | Same as MPC-78 except with M6 tapped holes | $ 13,480 |
| | | |
| MP-881 | Moving platform stage plate with motorized gantry supports, MP-285 controller and ROE, cables and manual | $ 12,290 |
| MP-88/M61 | Same as MP-78 except with M6 tapped holes | $ 12,290 |
| | | |
MP-88 / MPC-88 Chamber inserts
Catalog Number
Description
Price
X0405002
Warner Series 20 (round) - aluminum
$ 116
X0405032
Warner Series 20 (round) - stainless steel
$ 116
X0405052
Warner Series 20 (octagonal) - aluminum
$ 116
X0405072
Warner Series 20 (octagonal) - stainless steel
$ 116
X0405102
50mm round - aluminum
$ 116
X0405122
50mm round - stainless steel
$ 116
X0404972
Blank insert - Aluminum
$ 116
X0404982
Blank insert - stainless Steel
$ 116
SI-SLIDE2
Insert with slide holder
$ 116
SI-PETRI
For petri dish and slides
$ 326
SI-W302
Warner Series 30 platform - aluminum
$ 116
SI-W30ST2
Warner Series 30 platform - stainless steel
$ 116
SI-ALA-MS2
ALA MS series insert - aluminum
$ 116
SI-CUSTOM
Custom stage insert
$ 357
1 Please specify chamber type when ordering
2 no charge when ordered with MP-88 or MPC-88