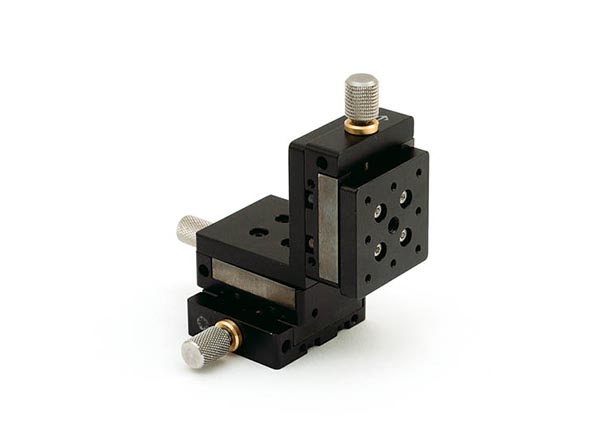 MM-6
Micropositioner
The MM-6 micropositioner is light weight, accurate, compact device designed to eliminate many research and design problems, especially in the case of space limitations. Hardened steel precision pre-loaded ball bearing slides and high resolution thumbscrew movement assure smooth motion, precision, and excellent load bearing capacity.
The black anodized aluminum body is made with a one-piece base and three piece construction. The top plate is designed around an M2 thread size on a 10 mm square hole pattern and central M4 tapped hole. The MM-6 is available in single, double, or triple stages. Adding stages is an easy job and requires no special tools. Triple stages come with an angle bracket to attach the Z-axis. The travel of the stage is 0.26 in (6.5 mm) and the base is easily adapted to most surfaces.
TECHNICAL SPECIFICATIONS
Baseplate Dimensions
1.4 in x 1.2 in x 0.6 in | 35 mm x 30 mm x 15 mm

Travel
0.26 in | 6.5 mm

Resolution
1.0 µm

Maximum Load
Horizontal: 6.5 lbs | 3 kg
Vertical: 1 lb | 0.5 kg
US Prices > MM-6
International prices vary by country. Please contact your local distributor or Sutter Instrument for a quotation. Prices subject to change without notice.
Catalog Number
Description
Price
MM-6 X
Single stage
$268
MM-6 XY
Double stage
$496
MM-6 XYZ
Triple stage
$779