Lambda TLED / TLED+
LED Transmitted Light Source
The Lambda TLED and TLED+ are stand-alone LED light sources that can be used with the transmitted light path of a microscope or in other applications with similar requirements.
The basic system consists of an LED mounted on a special black-anodized aluminum heat sink and a controller. Both TLED and TLED+ controllers are powered by a rugged modular universal power supply. The controllers provide intensity control and on-off control via a toggle switch or TTL logic. The on-off time is < 25 µsecs when using TTL control. In addition to digital input control, the Lambda TLED+ has an analog input to modulate the LED intensity. The Lambda TLED and TLED+ are expected to have stable output that will last in excess of 50,000 hours.
The Lambda TLED and TLED+ can be ordered with a high-output white light LED making it a suitable light source for contrast methods including Phase and Differential Interference Contrast (DIC).
As an alternative to the standard white-light LED, we have several options available including an IR-LED which is suitable for experiments requiring IR-DIC. Please contact Sutter for details.
Our dual channel Lambda TLED+ option combines two high power LEDs into a single light path. The TLED-DC includes a 460 nm LED for stimulation, while the second channel passes the phosphor emission from a white light LED. The white light channel can be used to access spectra between 510 nm to 630 nm and is suitable for a variety of applications. Both channels are driven by individual TLED+ controllers and can be triggered, also individually, by a TTL signal. Alternate wavelength configurations are available.
Each Lambda TLED/TLED+ system includes an optical mounting adapter for the microscope and detailed installation instructions. Mounting adapters are designed to fit most models of Nikon, Olympus, Zeiss and Leica microscopes. Custom adapters for the Lambda TLED/TLED+ are available at an additional cost.
The TLED-RL is a ring light illuminator for stereo microscopes with lenses up to 65 mm in outside diameter. The ring light is composed of a circular assembly of many white light LEDs that provide even and direct illumination of the sample.
FEATURES
> 50,000 hour lifetime
< 25 µsecs ON-OFF time
TTL control (with polarity switch)
Very stable output
Compact stand-alone design
Easy installation
COMMON APPLICATIONS
Transmitted light
Phase Contrast
Differential Interference Contrast (DIC)
TECHNICAL SPECIFICATIONS
Output Range
White light (400 nm - 700 nm)

Noise/Short term stability
0.01%

LED Life
> 50,000 hours

Control Box Dimensions
TLED
3 in x 3.5 in x 4.1 in | 7.6 cm x 8.9 cm x 10.2 cm
TLED+
4 in x 3.25 in x 4.1 in | 10.2 cm x 8.3 cm x 10.2 cm
Weight
2.2 lbs | 1.0 kg

Electrical
120/240 Volts
50/60 Hertz power line
75 Watts max

US Prices > Lambda TLED / TLED+
International prices vary by country due to associated importation costs. Please contact your local distributor or Sutter Instrument for a quotation. Prices subject to change without notice.
LAMBDA TLED Single Channel LED Light Source
Includes Lambda TLED light source, TLED controller, white light LED and power supply
Catalog Number
Description
Price
TLED-N
Lambda TLED for Nikon
$2,015
TLED-N40
Lambda TLED for Nikon E400/E600
$2,015
TLED-N50
Lambda TLED for Nikon AZ100
$2,015
TLED-N65
Lambda TLED for Nikon FN1
$2,015
TLED-Y
Lambda TLED for Olympus
$2,015
TLED-Z
Lambda TLED for Zeiss
$2,015
TLED-L
Lambda TLED for Leica
$2,015
TLED-C
Lambda TLED for C-mount
$2,015
---
LAMBDA TLED+ Single Channel LED Light Source
Includes Lambda TLED+ light source, TLED+ controller, white light LED and power supply
Catalog Number
Description
Price
TLEDPLUS-N
Lambda TLED+ for Nikon
$2,335
TLEDPLUS-N25 1
Lambda TLED+ for Nikon TE200/300, Diaphot 200/300
$2,335
TLEDPLUS-Y
Lambda TLED+ for Olympus
$2,335
TLEDPLUS-Z
Lambda TLED+ for Zeiss
$2,335
TLEDPLUS-L
Lambda TLED+ for Leica
$2,335
---
LAMBDA TLED-RGB LED Light Source
Includes Lambda TLED-RGB light source, TLED controller and power supply
Catalog Number
Description
Price
TLED-RGB-N
Lambda TLED-RGB for Nikon
$2,230
TLED-RGB-Y
Lambda TLED-RGB for Olympus
$2,230
---
LAMBDA TLED-RL LED Light Source
Includes Lambda TLED-RL light source, TLED controller and ring light
Catalog Number
Description
Price
TLED-RL
Lambda TLED-RL reflected light illuminator
$1,600
---
| | | |
| --- | --- | --- |
| Catalog Number | Description | Price |
| TRIGGER | USB trigger box | $520 |
Custom mounting adapters are available at an additional cost. Contact Sutter for details.

* Other wavelengths may be available. Contact Sutter for details.
1 Replaces the epi-illuminator

---
RELATED PRODUCTS
Lambda 10-3
Lambda 10-2
Lambda 10-B
TECHNICAL INFORMATION
Available Wavelengths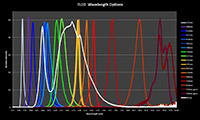 PRODUCT INFORMATION
Download Sales Flyer