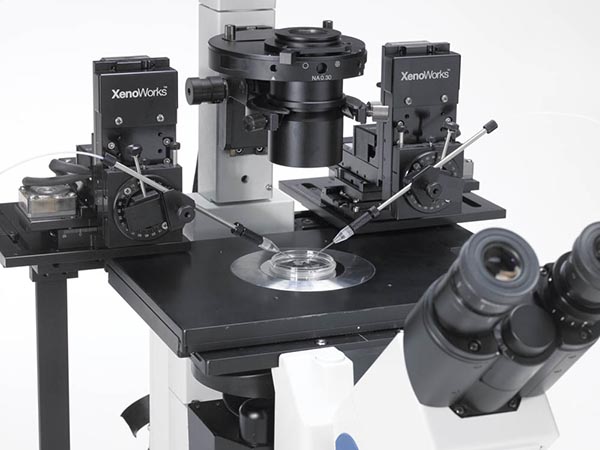 XenoWorks®
Microinjection Systems
XenoWorks®, a modular system designed to meet a wide variety of microinjection application needs. Our experience with precision motor control has culminated in this state of the art system.
The XenoWorks Micromanipulator uses a classic inverted joystick design for excellent ergonomics, intuitively linking the user with the micropipette. Combined with our smooth, responsive stepper-motor drives, the XenoWorks Micromanipulator replicates the feel and usability of traditional systems, without the associated inconveniences.
The XenoWorks Digital Microinjector was designed for precision manipulation of cells via an easy-to-use interface. The Digital Microinjector employs a self-contained vacuum channel for gentle suspension-cell holding applications. A second channel is available for both high-pressure injection and gentle positive/negative pressure for transfer of embryonic stem cells. Both injection duration and pressure are easily selectable using rotary knobs on the remote. The internal low-speed compressor removes the need for an external pressure supply.
The XenoWorks family also includes the Analog Microinjector for simple cell holding and transfer applications, which incorporates the same smooth response and ergonomic design of our other XenoWorks products.
FEATURES
Exceptionally smooth and responsive micropipette movement
Six movement sensitivities
Height- and tension-adjustable inverted joystick for optimal ergonomics
Up to 25 mm of movement in three axes
User defined "Work" and Z-axis limit
DIGITAL MICROINJECTOR
Independent "hold" and inject/transfer channels
Femtoliter resolution injection
Up to 5,600 hPa of injection pressure
Remote keypad with rotary controls and high-visibility LED displays
ANALOG MICROINJECTOR
Coarse and fine control
Use with a variety of hydraulic fluids, including oil, air and water
Interchangeable syringes allow sensitivity to be modified
TECHNICAL SPECIFICATIONS
MICROMANIPULATOR
Input Device
Height- and resistance-adjustable inverted joystick with integral de-clutch, 6 position rotary range control, low-profile base.
Micropipette Position Memory
1 user-defined set-point – "Work"
1 user-defined Z-axis limit – "Floor"
2 preset points – "Home" and "Setup"
DIGITAL MICROINJECTOR
Functions
Hold, Inject, Transfer, Clear

Pressure Channels
1 "Hold", 1 Inject/Transfer

ANALOG MICROINJECTOR
Course:Fine Control Ratio
10:1


Interchangeable Syringe Volumes
1000 ul, 500 ul, 100 ul
US Prices > XenoWorks Instruments
International prices vary by country due to associated importation costs. Please contact your local distributor or Sutter Instrument for a quotation. Prices subject to change without notice.
XenoWorks Micromanipulator includes: 3 axis motor drive (left or right hand configuration), motor drive base plate, controller, joystick user-interface, connecting cables, and manual
| | | |
| --- | --- | --- |
| Catalog Number | Description | Price |
| BRML | XenoWorks Micromanipulator - LEFT hand configuration | $ 16,285 |
| BRMR | XenoWorks Micromanipulator - RIGHT hand configuration | $ 16,285 |
| BRE | XenoWorks Digital Microinjector | $ 8,300 |
| BRI | XenoWorks Analog Microinjector | $ 2,160 |
US Prices > Xenoworks Mounting Adapters
| | | |
| --- | --- | --- |
| Catalog Number | Description | Price |
| BR-L20 | Leica DMIRB/E/IRE2 Adapter | $ 475 |
| BR-L30 | Leica DM-IL Adapter (manual or motorized stage) | $ 475 |
| BR-L40 | Leica DMI 4000/5000/6000 Adapter (double-sided) | $ 525 |
| BR-N10 | Nikon TMD Adapter | $ 475 |
| BR-N25 | Nikon TE200/300 Adapter | $ 475 |
| BR-N27 | Nikon TE2000 Adapter | $ 475 |
| BR-N29 | Nikon Ti Adapter | $ 475 |
| BR-N29-M | Nikon Ti Adapter for scopes w/ motorized stage | $ 475 |
| BR-Y50 | Olympus IX50/70 Adapter | $ 475 |
| BR-Y51 | Olympus IX51/71/81 Adapter | $ 475 |
| BR-Y51-FL | Olympus IX51/71/81 Adapter w/ ZDC autofocus, left | $ 550 |
| BR-Y51-FR | Olympus IX51/71/81 Adapter w/ ZDC autofocus, right | $ 550 |
| BR-Y73 | Olympus IX53/73/83 Adapter | $ 475 |
| BR-Y73-2 | Olympus IX53/73/83 Adapter double sided | $ 950 |
| BR-Z30 | Zeiss Axiovert 100/135 Adapter | $ 475 |
| BR-Z35 | Zeiss Axiovert 200 Adapter | $ 475 |
| BR-Z40 | Zeiss Axio Observer Adapter | $ 475 |
| BR-CUST | Custom microscope adapter | $ 975 |
US Prices > Xenoworks Accessories
| | | |
| --- | --- | --- |
| Catalog Number | Description | Price |
| BR-AT | XenoWorks Analog Tubing Kit | $ 55 |
| BR-DT | XenoWorks Digital Tubing Kit | $ 80 |
| BR-MH | XenoWorks Micropipette Holder | $ 175 |
| BR-MH1.0 | Micropipette replacement tip (1.0mm OD glass) | $ 45 |
| BR-MH1.2 | Micropipette replacement tip (1.2mm OD glass) | $ 45 |
| BR-MH1.5 | Micropipette replacement tip (1.5mm OD glass) | $ 45 |
| BR-AW | Rod holding clamp (rod OD 2-4mm) | $ 95 |
| MT-81-DOV81 | MT-81 stand with 8 inch dovetail | $ 620 |
| MT-81-DOV121 | MT-81 stand with 12 inch dovetail | $ 620 |
| BR-HEA-CV | Swing gate conversion for MP-285 / MP-225 | $ 425 |
---
RELATED PRODUCTS
P-97 Micropipette Puller
P-1000 Micropipette Puller
BV-10 Micropipette Beveler
XenoWorks Micromanipulator
XenoWorks Analog Microinjector
XenoWorks Digital Microinjector